The Max Delbruck Center for Molecular Medicine has two independent Junior Group Leader positions open at the Berlin Institute for Medical Systems Biology.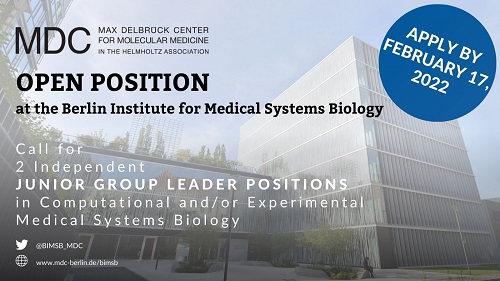 The MDC is a leading biomedical research institute dedicated to interdisciplinary research in the areas of Medical Systems Biology, Cardiovascular & Metabolic Diseases, Cancer Research, Disorders of the Nervous System, Immunology & Inflammation, and Data Science & Artificial Intelligence. The Berlin Institute for Medical Systems Biology (BIMSB) is a strategic expansion of the MDC and currently hosts 26 labs working at the interface between computational and experimental biology. Since early 2019, MDC/BIMSB is located in a new research building at the heart of Berlin on the Humboldt University campus and in close proximity to the Charité - Universitätsmedizin Berlin, the Berlin Institute for Health, the Deutsches Rheuma-Forschungszentrum Berlin (DRFZ) and the Max Planck Institute for Infection Biology (MPI-IB). Recently we have established exciting new and clinically relevant interactions with our new neighbors.
Position Summary
We are inviting applications from exceptional scientists in the fields of computational and/or experimental medical systems biology. Desired areas of expertise include, but are not limited to understanding tissue organization and homeostasis (e. g. cell-cell communication, spatial transcriptomics, organoid models), cell and tissue engineering (e. g. CRISPR/Cas-based base and epigenome editing, engineering of cell circuits, controlling therapeutic activity in space and time), theoretical population dynamics, RNA therapeutics, or technology development in areas such as single cell screening or nanoengineering. Candidates using or developing quantitative high-throughput technologies, machine learning, single-cell or single-molecule approaches, as well as model organisms or human disease models are especially encouraged to apply.
Experience in working in an interdisciplinary environment is desirable and a track record of highly successful post-doctoral research or, in exceptional cases, outstanding doctoral research is essential. The successful candidates are expected to conduct visionary independent research, acquire extramural funding, and engage in collaborative projects with experimental and computational groups and stateof-the-art technology platforms at the MDC and other research institutions, universities and hospitals in Berlin. The MDC will provide access to cluster and GPU compute facilities as well as support with administrative tasks (administrative assistance, 10 hrs/week), during onboarding, and for career development.
We offer funding for 5 years with an option for extension of 4 years upon evaluation. Our attractive start-up package includes your salary (according to the German public salaries, TVöD Bund/Ost), staff of one post-doc, one PhD student, one technical staff employee, annual consumables, start-up investment, and opportunities to recruit centrally funded students from the MDC´s international PhD fellowship programs.
Application Process
For further information, please visit our website https://www.mdc-berlin.de/bimsb. Enquiries about the positions and perspectives should be addressed to Nikolaus Rajewsky (rajewsky@mdc-berlin.de).
The MDC is committed to diversity and actively supports equal opportunities for all employees regardless of their origin, religion, ideology, disability, age or sexual identity. We look forward to applications from people who are open-minded and enjoy working in joint teams. The MDC is certified by the "work and family" audit and provides an inclusive and family friendly environment. Applications from women are explicitly encouraged.
Applications should be uploaded to the MDC application portal (https://application.mdcberlin.de/site/index.php) by February 17, 2022 including cover letter, curriculum vitae, list of publications, and an outline of present and future research plans (3-5 pages are recommended). Please submit your application in a single pdf file, maximum size 8 MB. Please request 2 reference letters to be sent to schmeitzner@mdc-berlin.de within the application deadline.
Location:
Berlin Institute for Medical Systems Biology